Confort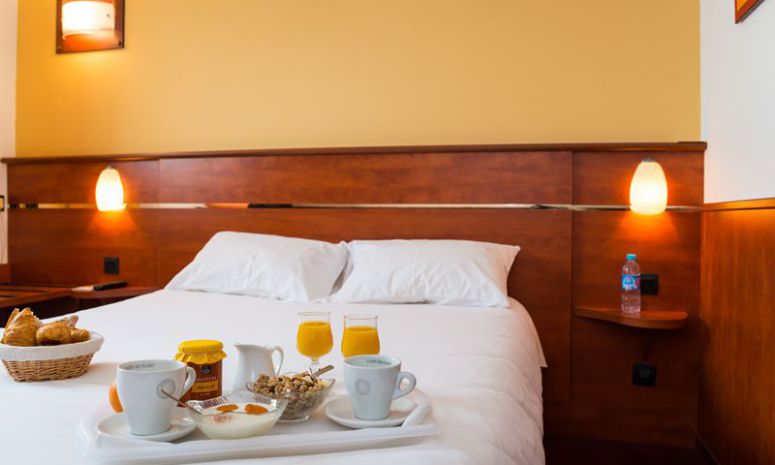 Our advantages
Proximity to expressways

Quiet environment

Large free parking
Our rooms
Take advantage of your room to relax...
Hotel Brit Hotel Rennes Cesson - Le Floréal is equipped with 51 rooms including 25 double rooms, 25 twin rooms and 1 family room.
Relax... all rooms are soundproof and equipped with LCD flat screen TV, Canal+ and satellite channels.

Parking

Free Wifi

Home 24H/24
Restaurant
...or use your room to work.
Indeed, the rooms of the Brit Hotel Rennes Cesson - Le Floréal are equipped with Wi-Fi internet network and this for free! A direct dial telephone is also available in each hotel room.
Finally, in each room, office furniture is installed to allow you to work in the best conditions.
Bedding and bathroom
All rooms at the Brit Hotel Rennes Cesson are equipped with duvets. The twin beds are 140 cm in size while the double beds are 160 cm.
The bathrooms have a shower, a sink, a hairdryer and toilets are integrated.
Rennes - Cesson Sévigné
Near the hotel
. 5 min from ZI Sud Est
. 2 min from Carrefour shopping centre
. 15 min from Rennes city centre
. 10 min from the stadium
. 10 min from the Technology Park
. 10 min from the metro station
. 15 min from the railway station
. 15 min from the airport
. 15 min from the Exhibition Centre

Access
. Immediate access to Paris-Rennes expressway
. Exit Cesson-Sévigné
. The hotel is 300 m from Rennes southern and northern ring roads

Brit Hotel was comfortable, welcoming and convenient for my needs as a short term visitor arriving by car
Read more
functional, friendly
The Brit Hotel perfectly suited my needs for this trip. I was in Rennes for meeting at the university and the hotel was very convenient to the Beaulieu site. The desk manager was friendly, helpful and welcoming. It's not a luxury resort, just a functional hotel for a night's rest. Highly recommend it if you're looking for a bed for the night with no frills.
Read more